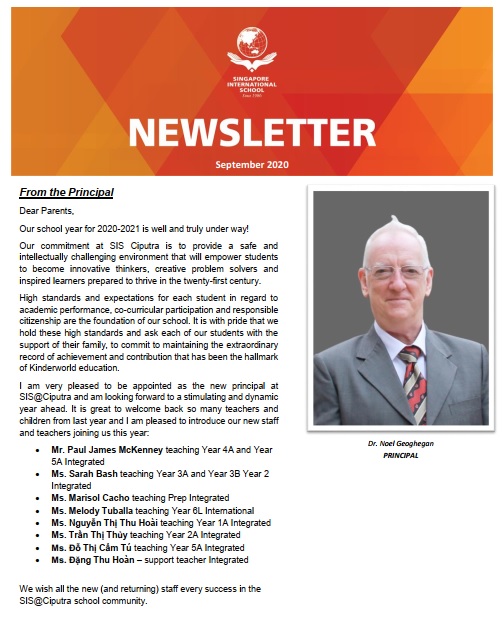 Dear Parents,
Please find our school Newsletter for September attached.
The year is already going so quickly.
SIS@Ciputra appreciates your interest and support in all our activities.
 On behalf of all the teachers and staff, best wishes to everyone for an enjoyable Mid-Autumn Celebration Festival.
Yours sincerely,
SIS@Ciputra,
SIS CPT Newsletter Sep-20v1.5- EN
…………………………………………………….
Kính gửi Quý Phụ huynh,
Nhà trường xin trân trọng gửi tới Quý Phụ huynh Thư tháng Chín.
Vậy là một năm học mới đã đến thật nhanh.
Chúng tôi cảm kích sự quan tâm và ủng hộ của Quý vị đối với các hoạt động diễn ra ở trường.
Thay mặt cho toàn thể cán bộ và nhân viên trong trường, chúng tôi xin chúc Quý vị đón Tết Trung Thu vui vẻ.
Trân trọng,
Trường Quốc Tế Singapore tại Ciputra,